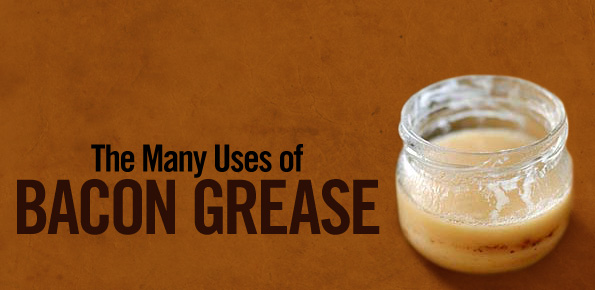 Pop popcorn in bacon fat.
Make Caesar salad dressing with bacon drippings in place of the olive oil.
Fry chicken using four parts peanut oil and one part bacon fat.
Add about 1 T. of bacon fat per pound to raw hamburger, ground turkey, or venison meat before frying or grilling the patties.
Fry liver and onions in bacon fat.
Use bacon fat to make gravies and roux.
Sauté onions, carrots, and/or garlic in bacon fat for vegetable soups.
Use bacon fat to cook refried beans and sunny-side-up eggs.
Stir l to 2 T. of bacon fat into pots of boiling white beans, polenta, grits, or rice.
Sauté sliced brussels sprouts in bacon fat.
Add bacon fat when boiling water to cook or blanch green beans.
When baking russet potatoes, coat the skin with bacon fat before putting the potatoes in the oven.
Cook hash browns in bacon fat.
Sauté chopped Swiss chard and other hearty winter greens in bacon fat.
Fry sliced tomatoes in bacon drippings (great on sandwiches).
Use bacon fat when making skillet corn bread; you'll get a crunchier crust.
Substitute a T. of bacon fat for other fats in single- crust pies.
If you have dogs, add it to their dog food for better flavor and digestion. Not to mention is helps keep their coats shiny and healthy.
When baking cornbread (or any other bread) use it to grease the baking pan or skillet before you add the mixture.
Add it to those green things we like to call "veggies" while you're cooking. This way you don't really need to add much salt, and it gives the veggies a hint of delicious porky flavor.
Use bacon fat in place of margarine for certain recipes. Get crazy and experiment. You will only find your favorite recipe by having fun with it!
Use it while frying up potatoes, steaks, shrimp, onions, eggs… practically anything you can think of frying up. Except for zombies. Don't use bacon grease to fry up a zombie.
Add bacon fat into cream cheese to make as a sauce for different dishes. It tastes delicious poured over squash, broccoli, steaks, and potatoes. Also works well in gravy recipes.
When making pancakes, instead of using oil, use bacon grease. So genius.
Add into soups when you're cooking over the stove- it will give your soup that extra hint of delicious savory flavor.
For an even tastier turkey sandwich (or any other lunch meat), lay warm liquid bacon grease on a plate to form a very thin layer. Lay your turkey slices (or whatever meat you like for your sandwiches) on top of the grease to just lightly coat the lunch meat. Then simply add to your sandwich. You may do this with your cheese if you would like too. This method is so tasty you won't need to use mayonnaise. You can also use the bacon grease to fry up that sandwich after you're done putting it together!