I have to say, I really don't understand the people that head out to crazy packed venues like children's museums, amusement parks, and the zoo late in the day.  When we go to those places - like today, taking advantage of our Oregon Zoo membership – we go as soon as they are open, or as close to that as we can manage to talk people into when we are meeting others there.  At that time of day, parking is a breeze and we are only a few cars down from the entrance.  There are no (or very short) lines for tickets.  But as we leave a few hours later, it never fails — lines ticket lines are 20 to 30 people deep with twice the lines open, the parking lots are stacked with cars all holding up traffic trying to wait for a spot to open.  Geting *out* is almost as bad as the getting in must be for those johnny come latelys.  I truely don't understand what makes a couple extra hours at home worth dealing with that mess, because even once you are inside, its gotta be just as crowded and nuts!
On the other hand, I guess its good for me since the kids are both early risers and I *like* getting them out and about so I feel like I still have so much day left afterwards.  I suppose if everyone went early to avoid the crowds, then the crowds would be early in the morning

I've taken that picnic bento box out with us several times so far, but I haven't been motivated to document it since I haven't really gone to much effort to make it kawaii.  It usually ends up looking something alot like this: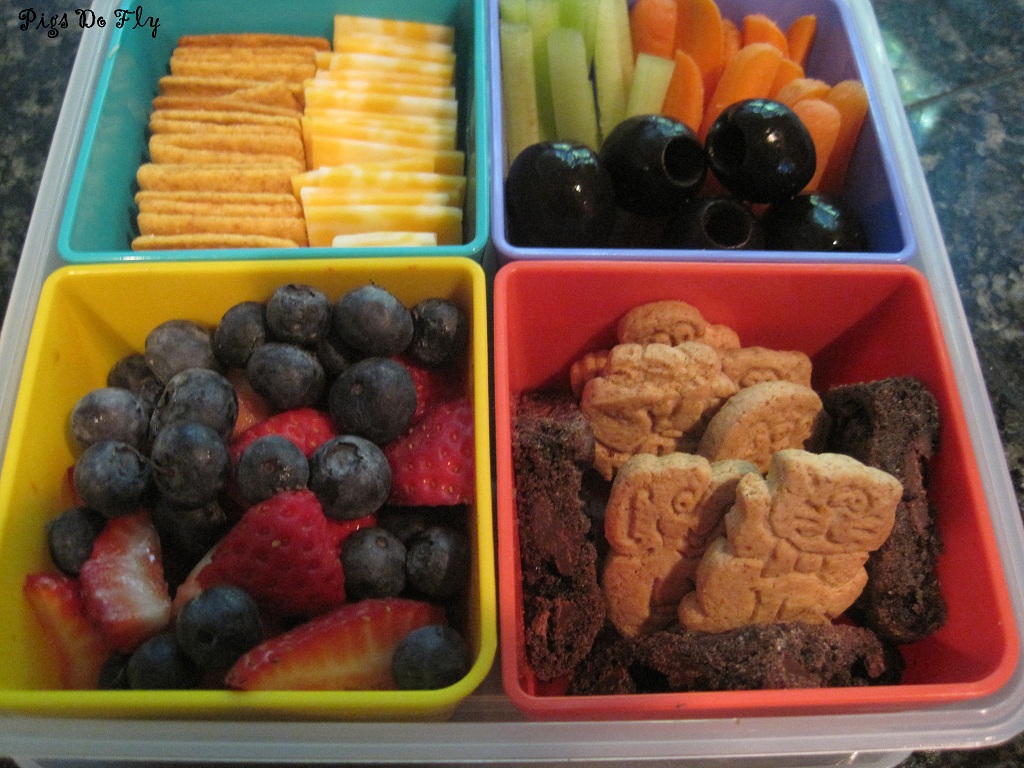 At best, I've cut the fruit and veggies into shapes.  I think his day camp next week provides lunch, so no bento opportunities there either.