Day 2 of day camp for the kidlet.  It's actually been nice weather for several days in a row, which is fortunate since his camp is all outdoors 😉
Yesterday I just sent a laptop lunchbox; things were a little crazy in the morning, I wasn't exactly sure where we were going (and it was a good thing we left early; we ended up having to hike about 15 minutes on the trails to get to the camp location — today I found the way to drive to that back parking lot), baby L was super needy.  Today I was a tiny bit more creative.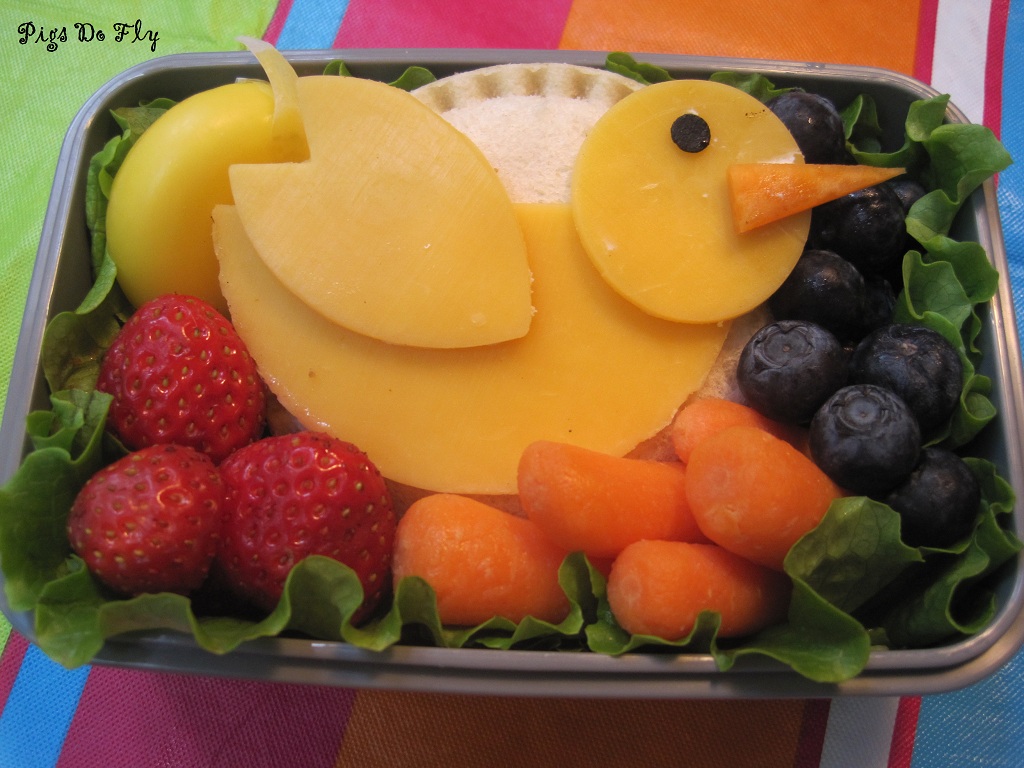 Pb and J sealed Sandwich, blueberries and yummy fresh local strawberries picked up at the Tigard farmers market on Sunday, carrots, babybel cheese.  Cheese birdie with carrot beak and candy confetti eye.  Ranch dressing and a small rice krispie treat cut into a flower shape packed separately. 
I know today's lunch is nothing special.  I've done a similar bird before, but it looks so bright and colorful and something about it I quite like =)
Yesterday as we were headed off to the community center, Kidlet declared that he didn't want to go to day camp, but I explained that it wasn't like school, but more like recess all day, and he decided to give it a try.  He had a great time.  We also had an afternoon birthday party over at an inflatable jumping place.  You'd think after all morning at sports camp and all afternoon running and jumping that he would be worn down and exhausted and ready to sleep like the dead.  Not so much 😉
Baby L and I went shopping after dropping Kidlet off this morning.  We stopped by Uwajamaya for quail eggs and found okinawan sweet potatos (the ones with the purple inside), which I've never seen there, although I always look.  Sherimiya at Happy Little Bento uses them fairly often and I've always admired how colorful and fresh her lunches always seem to be.  I also was drawn in by some really nice looking dragonfruit, despite swearing off them when the last time I picked one up it was 20$ :0  These were very fresh and plump and not at all withered looking, which they sometimes are given that they are sent via plane from some Asian country or another, and not exactly fresh off the vine.  They were also about half the price this time.  Still expensive but not nearly as hard on the pocketbook as the last one I bought.